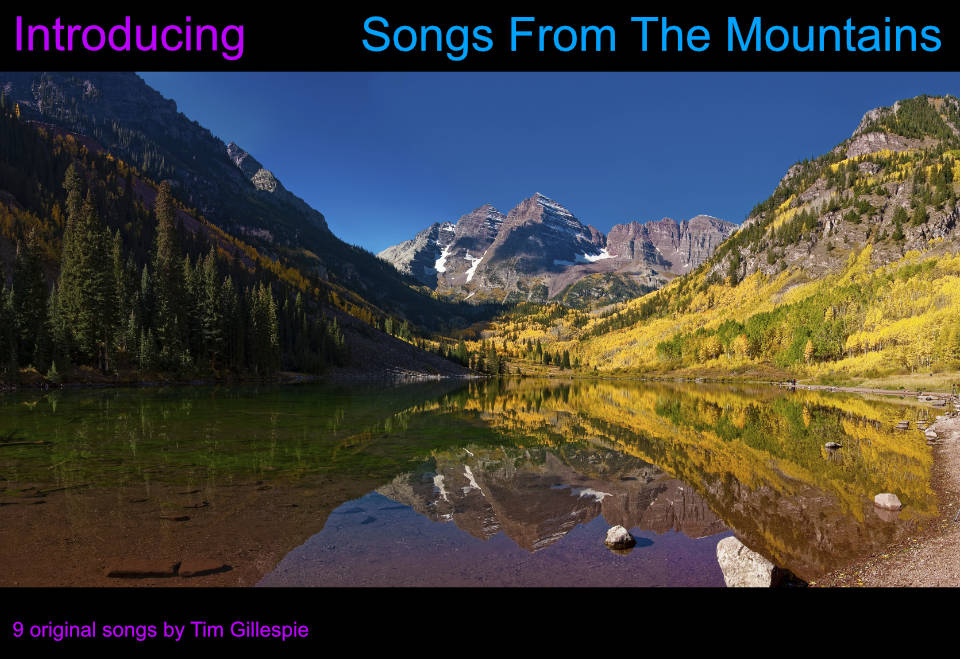 Welcome!

Use your credit card and / or your Paypal account. This is a safe and secure way of doing business.
Introducing Tim Gillespie's first solo album, Songs From The Mountains. This is a compilation of 9 songs featuring the guitar and singing work of Tim. You can listen to each song in entirety by clicking the Listen button above.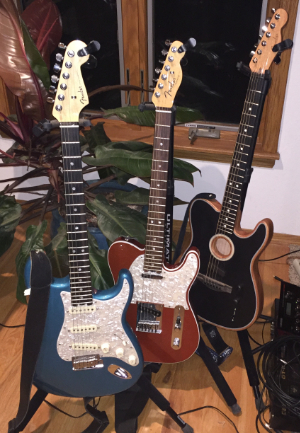 The instruments used include a Fender Stratocaster, a Fender Telecaster, A fender Acoustasonic Telecaster, several midi controllers (think keyboards) and some drum programming. All instruments are preformed by Tim, including all lead work. There are no other musicians on any of these recordings. the drums were also programmed by Tim. All the songs are original songs written by Tim.
You can purchase and download each song as well as the entire album. These songs are available for purchase as download only presently.
You create an account with very limited information, and complete your purchase. The songs will be in your account and ready for download immediately. If you lose your copy, simply log back on and re download them. This is a friendly system and we keep very little information here and no financial data what-so-ever!
Notice: This site is partially optimized for phones. Give us a few days please.
Notice: Only Pickin In The Sun Video and Songs From The Mountains videos are available. The rest of the videos will be published once a few things are wrapped up! It should be within a few weeks.
The songs are all done and available for purchase now. Click the purchase button to buy them now.
This site features the music of Tim Gillespie and his debut solo album "Songs From The Mountains".
Click the listen Section on the menu above to listen to FREE on-line versions of "Songs From The Mountains". You can read along with the lyrics and read about the background of the song.
Click the Purchase button to purchase your own copies of these songs. You log on to our system and your music is always there. You can always re download the songs at any time. This is a friendly system.
Click the Artist Statement button to read about the background and history of Tim and this album.
Use the contact page for any questions you may have. This link goes to Uncletim.com. It is safe to use. This system should be up this week.
Once logged in above, there is also a Helpdesk for any purchase issues.
If you are a media company or radio station, please visit the media page for up to date information.
Mountain Studios and Uncle Tim are proud members of ASCAP. American Society of Composers, Authors and Publishers.
Thank you, enjoy your visit.
Click this link to visit Uncletim.com. Tim's Fine Music Theory Books For Guitar